MoToR/dance's first evening-length production, Water in the Kettle features Artistic Director Evie Ladin's body music choreography (harmony singing, body percussion, rhythm dance), illuminating the maddeningly recurrent struggles of modern women, and the country, with intention, humor, and connective rhythm. We put water on to boil when we organize, commiserate, work, celebrate, refuel. The multigenerational ensemble – women raised by feminist mothers, still fighting the same fights – harmonizes over polyrhythmic body music, "I just might soak it up and some." Put some water on, we have a lot to discuss.
At Rhythmix Cultural Works, MoToR/dance reimagines the performance space, bringing the audience close, as in a village square.  Layering rhythmic systems in hands, feet and body, adding three+part harmonies, MoToR/dance illustrates a collective consciousness, a precision requiring performers to listen intently to each other. From self-directed hum to blaring sarcasm, MoToR/dance tells choreographed stories with emotional impact. "It's an explosion of molecules as we reach a boiling point." 
MoToR/dance Water in the Kettle ensemble members are Evie Ladin, Valerie Gutwirth, Keira Armstrong, Tammy Chang , Kristen DeAmicis, Heather Arnett and Sydney Lozier. Additional performers include chorus members JJ Hansen, Cynthia Mah and Linda Carr, and musicians Amber Hines (vocal, percussion) and Lisa Berman (vocal, banjo, slide guitar).
COMPANY BIOS / PHOTOS & VIDEO: Dean Bosche
Evie Ladin's all-female percussive dance company MoToR/dance explores the complete expression of the sonic body in space. Inspired by the vibrant International Body Music scene to workshop complex physical rhythmic independence with world rhythmic systems, Evie created MoToR/method: unique interlocking percussive dance arrangements with layered vocal harmonies and large group choreography in a powerful moving choir.
Stunning work and performing, as always, with such integrity and artistry. – Randee Paufve, Producer 8x8x8
MoToR/dance works harmonize Appalachian and related songs layered with African-diaspora rhythmic systems, elucidating elements of this tradition's genesis.  The large ensemble works are evocative and moving works of music/dance, and resplendent dance films.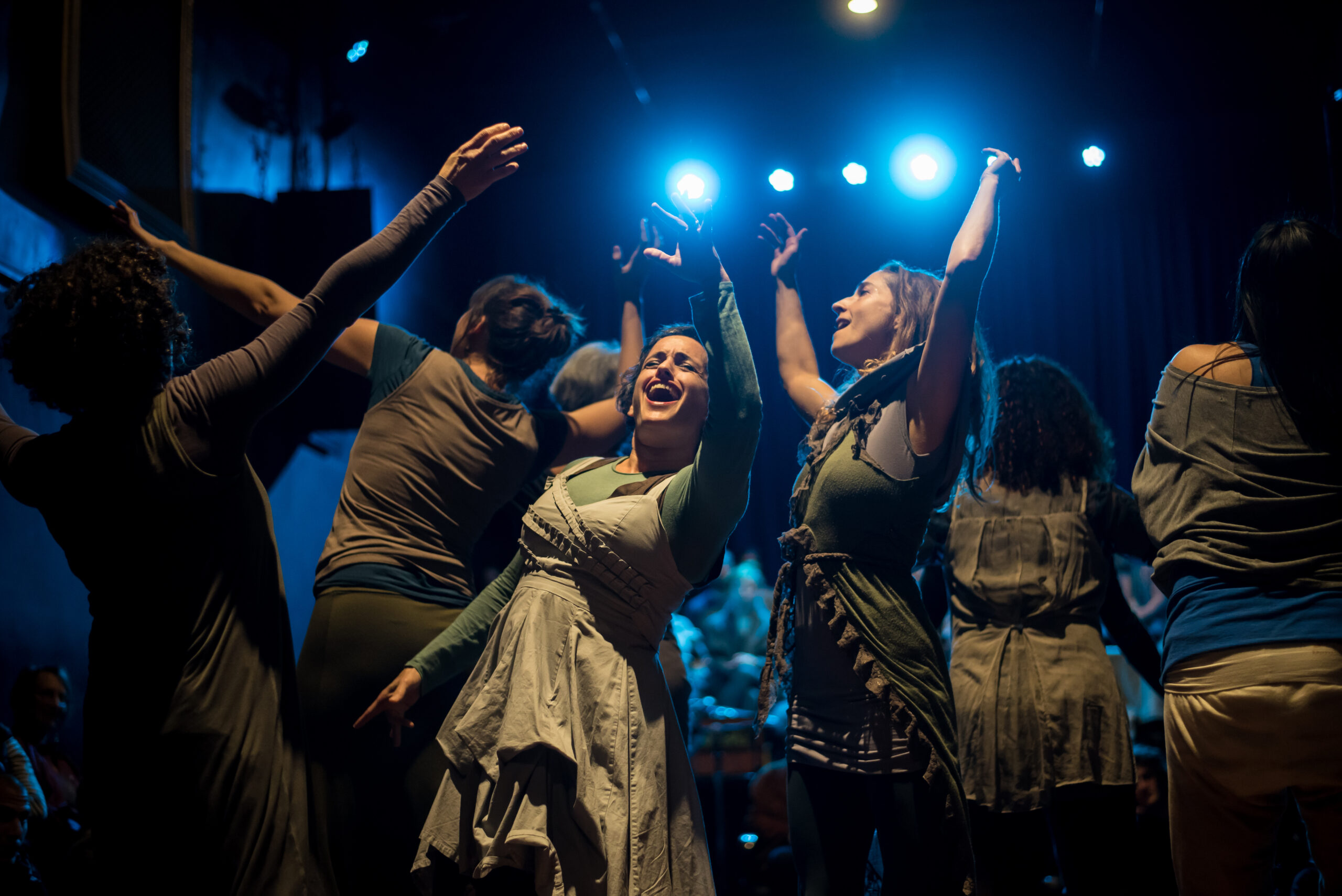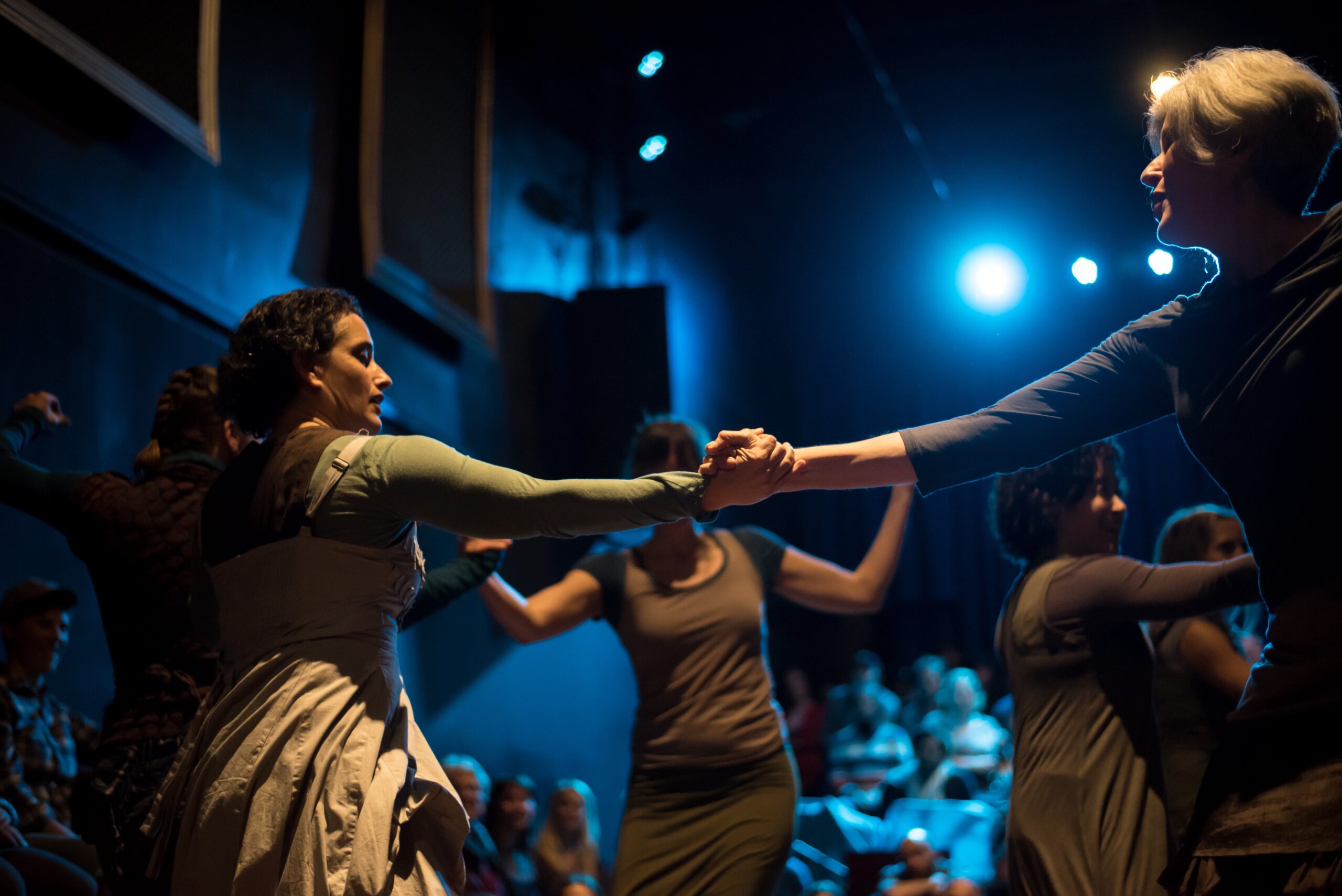 MoToR/method challenges dancers physically and intellectually on precision and expression, breath control, tone, musicality; while developing ensemble and personal rhythmic/harmonic solidity. Pushing the envelope in Body Music and Contemporary Dance, company members and audience remark that the work is singular in its visceral power and integration of systems, exceptional in drawing audiences into shared human experience.
MoToR debuted vocabulary at the 6th International Body Music Festival, Oakland, 2013 and premiered their first work AIN'T NO GRAVE at the famed 8x8x8 choreographer's showcase in Oakland, 2014, where it was  proclaimed "the event of the night."
The work was sonically recorded by Jeff Cressman (Santana), and the film directed by Mark Kohr (Green Day, Norah Jones) was selected for the 2015 American Dance Festival's Movies by Movers and Sans Souci Film Festivals.
MoToR/dance debuted a second complete work, THE STORM, at the 2015 International Body Music MiniFest, with an ensemble of 13. Selected for the 2019 American Dance Festival Movies by Movers Film Festival and the 2020 San Francisco Dance Film Festival, the film was sound recorded by Jeff Cressman, and shot and edited by Chafic Saad/Kind Motion (STOMP, Google). 
MoToR/dance was deep in creation for Water in the Kettle, delving into the contradictions in women's work in a re-feminist age, and the country's neglected foundational notions of equality – when the pandemic canceled the year of performances. The group detoured into filming DRUMSET, a Fiona Apple song, and Evie diverted from long form plans to the 15-60 second #MoToRMonday on TikTok and other socials. With a CA$H Grant in hand from San Francisco's Dancer's Group, and a Jubilation Fellowship, MoToR/dance resumed focus on their first evening-length show to premiere in 2023.
Water in the Kettle COMPANY BIOS:
Artistic Director Evie Ladin is a percussive-dancer, choreographer, singer, songwriter, banjo player and square-dance caller with a lifetime of experience in traditional American cultural arts and intercultural music/dance performance and education. Based in Oakland, CA, Evie grew up in a traditional folk scene on the East Coast of the US, and early on was drawn to other cultures where music and dance are an integral part of social communication. Her performances, recordings and teaching reconnect Appalachian arts with other African-Diaspora traditions, in the American folk music world, the international Body Music and percussive dance communities, and at all levels of education. Evie graduated from Brown University (BA: African Studies In Dance), and received both Fulbright and Watson Fellowships, studying music/dance in Eastern Nigeria.  For 8 years, she toured concert halls and festivals nationally with the music/dance ensemble Rhythm In Shoes. Since landing in California in 2000, Evie has choreographed numerous works with partner Keith Terry and his intercultural, rhythm-based Crosspulse ensembles, performing from Lincoln Center, NY to SFJAZZ, Brazil to Bali and many points in between.  Evie is Executive Director of the International Body Music Festival, directs the moving choir MoToR/dance, and is an ace freestyle flatfooter. She teaches banjo at the Freight & Salvage, online to over 350 students at Peghead Nation; calls and plays for square dances; has won contest ribbons, and writes clever, poignant songs. Touring solo, with Keith Terry, and her Evie Ladin Band she has a hefty discography.  A truly entertaining performer, Evie enjoys facilitating arts learning in diverse communities. She is a 2020-21 Jubilation Fellow, awarded to those who facilitate music and rhythmic learning.         
Heather Arnett has choreographed and presented solos in the Bay Area since 2010 and performed with Deborah Slater Dance Theater, Epiphany Dance Theater and Kristin Damrow & Co and more. Her dance film Parting Soles was selected for 2017 Tiny Dance Film Festival and Austin Spotlight Film Festival. Heather is the founder and Artistic Director of Cat Call Choir, female-identified performers who create live satirical performances about gendered violence. catcallchoir.com 
JJ (Johnine) Hansen is a singer, pianist, and choir instructor based in Berkeley, CA where  she teaches general, instrumental and choral music for Berkeley Unified School District. A Music Educator in the Bay Area for over 25 years, JJ's specialty is using music from the rich heritage of Black people in the US to teach key musical building blocks to young learners (culturally responsive teaching). She created and served as the central performer in a show detailing the history of gospel music in the United States, and facilitates Music Professional Development retreats at the corporate level. JJ was born in Louisiana and was raised in North Carolina before moving to the Bay Area as a teenager. 
Keira Armstrong comes to MoTor with a background in ballet, modern and folk dance, social and family music and singing, and rhythm based athletics. She appreciates the opportunity to break free of a computer-based day job to create, play and learn in community. 
Kristen DeAmicis holds a BFA in Modern Dance & Dance Ethnography from the University of Michigan. Performing & teaching professionally in the Bay Area for 10 years with Wan-Chao Dance, Ballet Afsaneh, The Zaryab Ensemble, and Kavanah Dance, she was also Admin Assistant for Project Bandaloop and created the outdoor site specific/responsive Dancing Off The Beaten Path. She has experience in study/performance of dance/percussion/singing in Cuba, Ghana, India, and Tajikistan, as well as classical violin training.
Sydney Lozier is a dancer, teacher, and producer – running the gamut from site-specific to showgirl.   She began her professional performance career at the University of San Francisco, receiving a BA in Performing Arts and Social Justice.  Sydney earned her ME from USF while performing with Eli Nelson, the Hollywood It Girls, the Sand Dance Project, and 13th Floor Theater, amongst others.  She's grateful for her inaugural work with MoToR Dance, and the opportunity to collaborate with a troupe filled with smart, compassionate, creative people.
Tammy Chang is a functional nutrition coach and founder of The Nourished Belly. She teaches capoeira in one of the few women led schools, Capoeira Brasil East Bay, and general fitness around the Bay Area.   She is based in Oakland. 
Valerie Gutwirth dances, teaches dance to children, writes about dance, practices and teaches yoga, and plays and performs body music in the San Francisco Bay Area. She holds a BA in Dance and Religious Studies from Connecticut College, and an MS in Early Childhood/Elementary Education from Bank Street College. Performances include Nina Haft and Co., Paufve Dance, Jill Randall, and Evie Ladin/MoToR. With Jill Randall she is the author of "Dance Education Essentials: 55 objects and Ideas for New Preschool-12th Grade Dance Teachers."
A native Bay Area multi-instrumentalist, playing music for the pure joy of it, Cynthia Mah has performed at Yoshi's, Freight & Salvage, The California Jazz Conservatory, de Young Museum and Ashkenaz in genres as diverse as big band jazz, R&B, Brazilian choro, harmonica ensemble and body music.   She is currently a member of several bands including Melba's Kitchen, Raw Sugar, Cal Alumni Big Band and Tin Sandwich.
Linda Carr has been running the Modern Dance program at Berkeley High School since 2000. Ruth Zaporah, Joe Goode, Contact Improvisation, Etiquette Physical Theater and her many, many students are all welcomed influences. She met Evie back in the 90's and was soon following her up University Avenue banging sticks and singing songs as part of MoToR's inaugural performance at the How Berkeley Can You Be Parade.
Lisa Berman is a versatile roots musician on Dobro, Hawaiian slide, clawhammer banjo, guitar and vocals. She was a member for 13 years of the old-time stringband Stairwell Sisters with Evie Ladin, and continues to play with The Crooked Jades for over twenty years. Lisa has collaborated with ODC and Kate Weare Dance Company on three projects: "Bright Land," "World's On Fire," and "Decameron", performing at The Joyce Theater in New York, and Yerba Buena Center for the Arts and ODC in San Francisco. She is also an accomplished  graphic designer/art director/photographer, designing posters and CDs for musicians, and books.
Musician, dancer, counselor and teacher, Amber Hines is a Bay Area native.  Amber has studied the dance and music of West and North Africa, Cuba and Brazil.  She is deeply inspired by early African-American and continental African music.  These songs of hope, freedom of expression, and strength of spirit influence the curriculum she brings to her East Bay music community.  She specializes in early childhood music and teaches classes at pre-schools and elementary schools.