MoToR/dance's first evening-length production, Water in the Kettle premiered February 2023 to Sold Out shows and rave reviews, so the ensemble is restaging the show twice this season. Artistic Director Evie Ladin's body music choreography (harmony singing, body percussion, rhythm dance), illuminates the maddeningly recurrent struggles of modern women, and the country, with intention, humor, and connective rhythm. We put water on to boil when we organize, commiserate, work, celebrate, refuel. The multigenerational ensemble – women raised by feminist mothers, still fighting the same fights – harmonizes over polyrhythmic body music, "I just might soak it up and some." Put some water on, we have a lot to discuss.


More About WATER IN THE KETTLE
PHOTOS & VIDEO: Dean Bosche/Outdoor Film

A dynamic, exciting work for…an unbelievable ensemble.
– Joanna Harris, Bay Area Stringer
All evening new sounds and rhythms are introduced, our bodies a seemingly endless source of possibilities in the hands of Ladin and her collaborators.
– Jen Norris, Dance Reviews
The performers demonstrate a virtuosic command of the interplay between physicality, rhythm, and musicality to poke, prod, interrogate, and propose perspectives on what it means to be a woman—often with a delightful dose of dry humor
– Molly Rose-Williams, Life As A Modern Dancer
Evie Ladin's all-female percussive dance company MoToR/dance explores the complete expression of the sonic body in space. Inspired by the vibrant International Body Music scene to workshop complex physical rhythmic independence with world rhythmic systems, Evie created MoToR/method: unique interlocking percussive dance arrangements with layered vocal harmonies and large group choreography in a powerful moving choir.
Stunning work and performing, as always, with such integrity and artistry. – Randee Paufve, Producer 8x8x8
MoToR/dance works harmonize Appalachian and related songs layered with African-diaspora rhythmic systems, elucidating elements of this tradition's genesis.  The large ensemble works are evocative and moving works of music/dance, and resplendent dance films.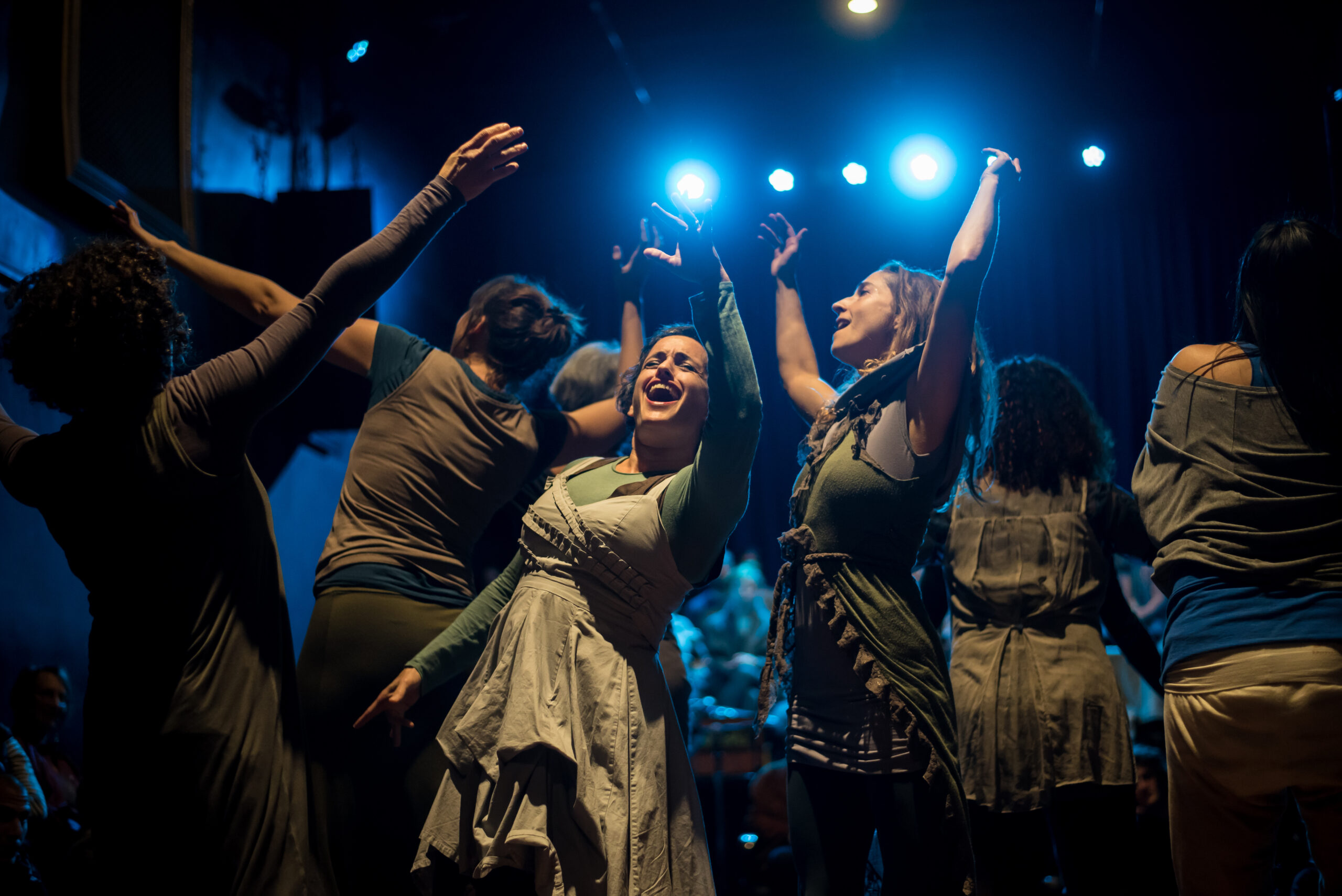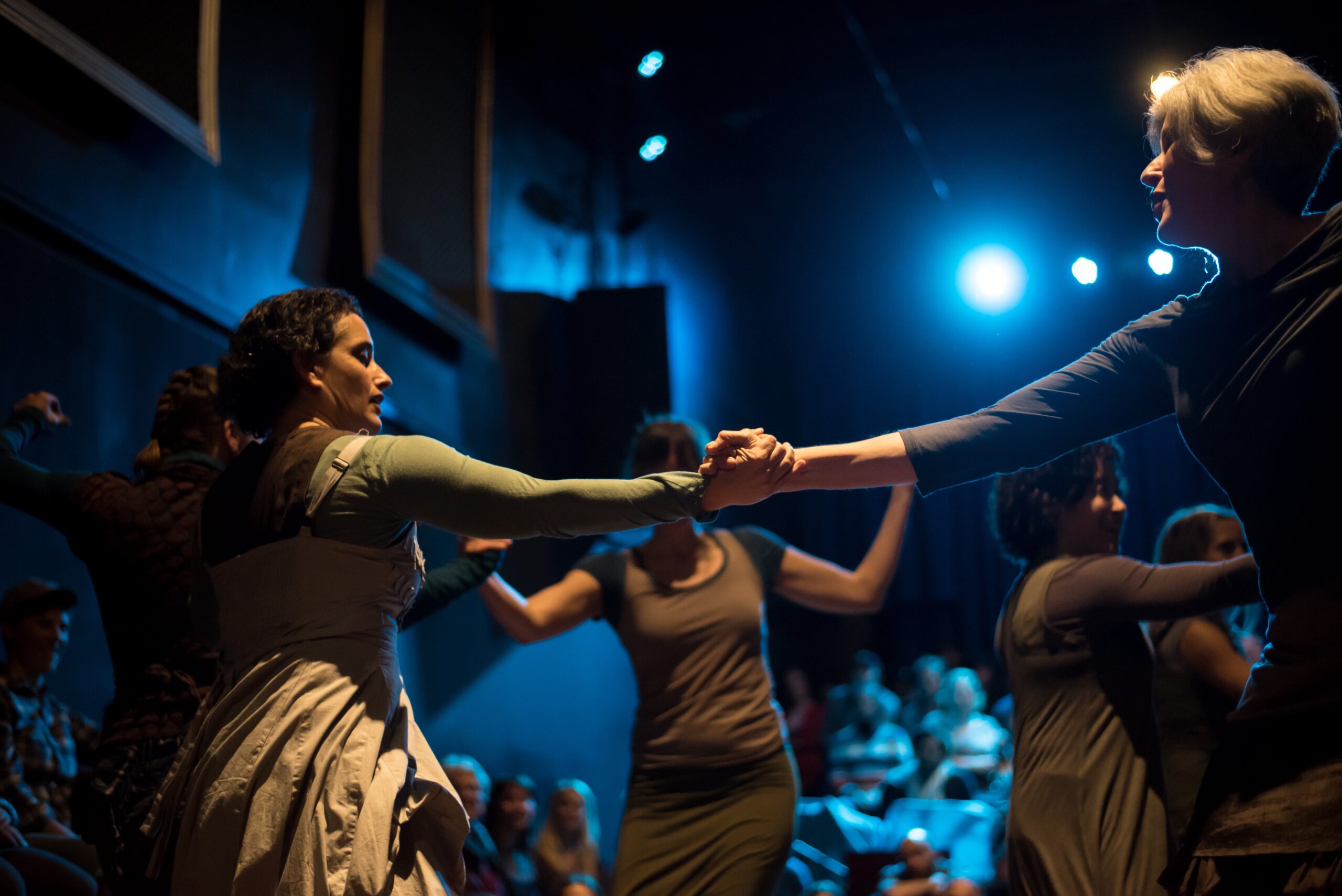 MoToR/method challenges dancers physically and intellectually on precision and expression, breath control, tone, musicality; while developing ensemble and personal rhythmic/harmonic solidity. Pushing the envelope in Body Music and Contemporary Dance, company members and audience remark that the work is singular in its visceral power and integration of systems, exceptional in drawing audiences into shared human experience.
MoToR debuted vocabulary at the 6th International Body Music Festival, Oakland, 2013 and premiered their first work AIN'T NO GRAVE at the famed 8x8x8 choreographer's showcase in Oakland, 2014, where it was  proclaimed "the event of the night."
The work was sonically recorded by Jeff Cressman (Santana), and the film directed by Mark Kohr (Green Day, Norah Jones) was selected for the 2015 American Dance Festival's Movies by Movers and Sans Souci Film Festivals.
MoToR/dance debuted a second complete work, THE STORM, at the 2015 International Body Music MiniFest, with an ensemble of 13. Selected for the 2019 American Dance Festival Movies by Movers Film Festival and the 2020 San Francisco Dance Film Festival, the film was sound recorded by Jeff Cressman, and shot and edited by Chafic Saad/Kind Motion (STOMP, Google). 
MoToR/dance was deep in creation for WATER IN THE KETTLE, delving into the contradictions in women's work in a re-feminist age, and the country's neglected foundational notions of equality – when the pandemic canceled the year of performances. The group detoured into filming DRUMSET, a Fiona Apple song, and Evie diverted from long form plans to the 15-60 second #MoToRMonday on TikTok and other socials. With a CA$H Grant in hand from San Francisco's Dancer's Group, and a Jubilation Fellowship, MoToR/dance resumed focus on their first evening-length show, and WATER IN THE KETTLE premiered to Sold Out crowds in 2023. Plans for video release and restaging are in the works.