Evie Ladin
pronounced EEvee LAYdin – spelled E V I E L A D I N
The polyrhythmic heat of Evie Ladin's clawhammer banjo, resonant voice, real stories and rhythmic dance have been heard from A Prairie Home Companion to Celtic Connections, Lincoln Center to Hardly Strictly Bluegrass. Originally known as a driving force behind San Francisco's Stairwell Sisters, or a professional percussive dancer with Rhythm In Shoes, 2019 saw Evie releasing albums on both sides of her musical spectrum: her fourth album of original material,CAUGHT ON A WIRE, showcases the ELB as a tight trio, with mature, playful, driving songs, and a 4-dimensional live show; while her first completely trad album, RIDING THE ROOSTER, features fiddle & banjo duets with 17 of her favorite fiddlers across the country. Born and raised on Southern music, from inner city Baltimore to Oakland, she has taken home ribbons in folk song from Mt Airy, NC Fiddler's Convention, and Neo-Trad Band from the Appalachian Stringband Festival, Clifftop, WV, among other accolades.
Ladin's voice is a revelation. Clear, strong, delicate and emotive all at the same time…her exemplary examples of adult love songs deal with complicated subject matter, yet never lose their swing or get bogged down by maudlin sentimentality. In fact, the music is gorgeous.
—NO DEPRESSION
Her songwriting is intelligent and imaginative without being pretentious or obtuse.
—Country Standard Time
Think Rhiannon Giddens with less publicity and you will not be far wrong. —fRoots
Banjo player, step-dancer, singer, songwriter and square-dance caller, Evie grew up in a trad folk scene up and down the Eastern Seaboard of the US. Her family home was always open to musicians and dancers traveling through, her family vacations at festivals and music camps. Starting banjo at 8, clogging since 5, Evie is fluid in traditional Appalachian arts, even as she brings an urban edge and contemporary vision to her own stories, deep interpretations of old songs, contemporary percussive dance. Folk music in her family life, early urban hip hop in her teen life, diving deep into the African side of old-time country music and dance…Music, dance and song became inseparable forms as they are in traditional cultures. Evie's inventive performances, recordings and teaching connect those dots in captivating, visually musical ways.
Evie Ladin is a natural entertainer with a gift for infusing folk practices with contemporary verve. —SAN FRANCISCO CHRONICLE
Based in Oakland, CA, Evie tours solo, duo with Keith Terry, and with the Evie Ladin Band, a trio. She also tours with Keith Terry & Crosspulse, and helped cultivate the thriving International Body Music scene, performing rhythm-based multi-cultural music & dance works, reconnecting Appalachian music with other African-Diaspora traditions in the world music fabric. She directs an all-gal moving choir, MoToR/dance. Folk music, percussive dance, old-time traditional, singer-songwriter, world fusion – in every outlet, Evie is a demonstrative, engaging live performer.
I don't know who's better, your wife or Sammy Davis, Jr. –NEIGHBOR CHARLES
Firm believer that arts integrated in everyday life makes for healthy people and communities, Evie is a seasoned educator. On tour and at home, Evie leads workshops and lecture/demonstrations from elementary through professional level in old-time harmony singing, clawhammer banjo, percussive and vernacular dance styles, and she calls super-fun rowdy square dances. She has 250+ students in her online banjo course through Peghead Nation.
Want EVEN MORE of Evie's Backstory? Click Here.
---
Photos
Click on image to download high-res (300dpi) images

Photos: Gudmundor Vigfusson (1, 2), Mike Melnyk (3)
---
Poster
Click on image to download high-res (300dpi) image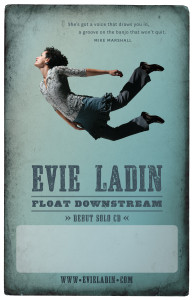 ---
Reviews
Evie Ladin is a natural entertainer with a gift for infusing folk practices with contemporary verve.
—San Francisco Chronicle
---
She's got a voice that draws you in, a groove on the banjo that won't quit.
—MIKE MARSHALL
---
She can write, and she can sing, and she pulls back from the saccharine brink with just enough wit – a sharp intelligence.
–Grant Alden, NO DEPRESSION
---
This is no throwback and this is no desecration. It's contemporary down home music at the top of its game. There's been a lot of entries in this genre lately, and many have had a lot on the ball, but this one simply hits it out of the park.
—MIDWEST RECORDS on "Float Downstream"
---
Elegantly tearing it up on the banjo, she puts the whole of her emotional self into her playing and singing…Engagingly vibrant and energetic, through tales of love lost and won, times squandered and treasured and backwoods observations that tantalize the heart and put a sway in head, shoulders, hips and feet. For every song that's sparse and reflective, there's a stomper that would fill the floor anywhere from Cajun country to Celtic country. It's as blissful as, well, floating downstream. Jump in.
—WORLD MUSIC CENTRAL on "Float Downstream"
---
Being an expert banjo player is just one of many talents Evie brought to the evening…her quick-fire wit and her amazing Buckdancing had us all breathless. –CONCERT REVIEW, Peebles, Scotland
---
Clogger Evie Ladin set the house afire. –DANCE MAGAZINE
---
I don't know who's better, your wife or Sammy Davis, Jr. –NEIGHBOR CHARLES
---