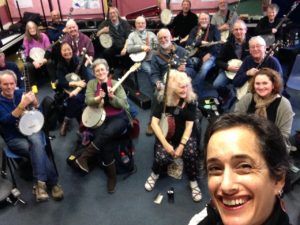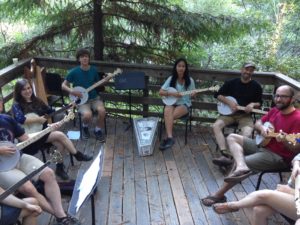 Evie is a patient and thorough teacher, capable of leading any age and level through the range of her expertise in music and dance. She has in-depth experience in private lessons; ongoing group lessons at the esteemed
Freight & Salvage
, Berkeley; University Master Classes; Choirs & Theater; Music Camps of many varieties; and on-line through
Peghead Nation
. She is often praised as making information very accessible, and her students comfortable with whatever their starting point.
Evie regularly leads these Workshops, from Elementary through Professional Level, Community and Multi-Generational:
Clawhammer Banjo: Rank Beginner to Advanced; Singing While Playing; New Music from Old Forms, etc.
Old Time Harmony Singing
Old Time Stringband
Square Dance
Southern Appalachian Flatfoot Clogging
Tap Dance
Survey of Step Dance Styles
Vernacular Dance
Dancing with Others: the Basics of Sharing Weight
History of American Dance
Body Music – Hands, Feet, Voice, Choreography
Camps! Evie has taught at Steve Kaufman's Acoustic Camp, Augusta Heritage Center, Ashokan Fiddle & Dance, California Bluegrass Association Camp, Nimblefingers in Canada, California Coast Music Camp, Puget Sound Guitar Workshop, Fiddlekids, Joe Craven's RiverTunes, the International Body Music Festival, Cazadero Performing Arts Family Camp, and more!
Feedback from Vocal Courses:
"Evie is very knowledgeable, entertaining, warm and funny. She gets the message across and keeps the class moving forward. It's a great joy to be around her and try to absorb her talent."
"This was the best class I have had at this camp. Dynamic, fun, and informative."
"Great class! I can't say enough good things, Evie is amazing! She's organized and knowledgeable about Carter tunes and harmonies. I learned how to pick out harmonies—crossing over, crooked, etc. We got to sing a lot!"
"Evie is a strong teacher. She gives a clear vision of what we are going toward. I enjoyed the instruction and music. I learned to think about harmony and improved my basic melody singing as well. I liked it a lot and would love to do it again!"
Feedback from Peghead Nation Banjo Students:
"I really enjoy the "response playing" in your lessons. It helps me get the tune. Great course! Thoroughly enjoying it and learning how to play."
"I've been thoroughly enjoying your course for the past several months. In addition to learning the particular melodies for each tune, I like the way you manage to convey some basic and transportable techniques and riffs that can be applied to backing up and filling on other tunes, as well."
"You're a really fine teacher Evie. So appreciative of your lessons. Have attended a few banjo camps with really great teachers, professional musicians like you, but you really keep me inspired and playing for at least an hour most every day! Your lessons are clear, progressive, jam packed full of options for beginners and onward. And, I'm finally learning by ear and rarely if ever look at your well constructed tune tabs. I see now how learning a tune by ear from the get go makes it so much easier to pick up and remember. The only problem is sometimes those tunes stay in my head for days even when I'm not playing! And no disrespect to all the great guys I've had lessons with, but it is so nice to learn from such a strong, accomplished, clawhammer queen! Love the tunes you choose to teach too."
"EVIE LADIN IS A "GODSEND" TO THE BANJO PLAYING INSTRUCTION WORLD. THE OVERFLOW OF BLUEGRASS MUSICIANS ARE ABUNDANT TO ALL. YET AN ENGAGING PRACTICAL INSTRUCTOR IN CLAWHAMMER OF THIS KIND IS A RARITY. MAY HER TRIBE INCREASE!!!"