neo-trad kinetic roots trio
PHOTOS | POSTER | REVIEWS | EPK
Tenacious, innovative string musicians/dancers, Evie Ladin, Keith Terry and Erik Pearson throw down an unusually entertaining live show with three-part harmony, instrumental chops and sonic surprises. In 2019 they release two CDs, celebrating both of their musical sides: one totally trad fiddle/banjo duets, Riding the Rooster and one adventurous originals, Caught On A Wire. Grounded in old-time repertoire, writing clever lyrics with mature arrangements, intermingling music and dance, the performance experience is a stand-out. "A truly original sound in new old-time Americana," says fRoots, while fans remark "your show was by turns whimsical, uplifting, jaw-droppingly brilliant, hilarious, and deeply moving."
You don't often hear words like "traditional," and "authentic" paired with "innovative" and "unique," but Evie Ladin has brought them together brilliantly in the self-titled, debut album, and the result is truly a high point in new old-time music. – FOLKWORKS, Los Angeles
The best example I have seen of a Neo-Trad band's sound being authentically anchored in old time music but extending it into new and entertaining directions. – Founder, Clifftop Neo-Trad Band Contest
The polyrhythmic heat of Evie's clawhammer banjo has been heard from A Prairie Home Companion to Celtic Connections, Lincoln Center to Hardly Strictly Bluegrass. Born and raised on Southern music, from inner city Baltimore to Oakland, she has taken home ribbons in folk song from Mt Airy, NC Fiddler's Convention, and Neo-Trad Band from the Appalachian Stringband Festival, Clifftop, WV. "She can write, she can sing, and she pulls back from the saccharine brink with wit – a sharp intelligence," Grant Alden, No Depression.
Ladin's voice is sultry, wistful and defiant all at once. She possesses a keen songwriting sense and a stable of strong musicians to back her up. –POP MATTERS
Keith Terry (bass, Body Music, vocals) is a renowned percussionist/rhythm dancer, and the founder of the International Body Music Festival. A pioneer in contemporary Body Music, Keith produces large-scale intercultural collaborations and education. Keith brings a cinematic ear to playing bass as tonal percussion, with bells, box, body and toys.
Erik Pearson (guitar, banjo, vocals) is a musician's musician with the Crooked Jades, storyteller Diane Ferlatte, and his solo projects. His original banjo tune "Fork & File" was the soundtrack for a rapids rafting scene in Sean Penn's movie Into the Wild.
---
Photos
Click on image to download high-res (300dpi) images


Photos: Gudmundor Vigfusson, styled by Namita Kapoor
---
Poster
Click on image to download high-res (300dpi) image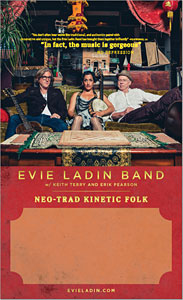 ---
Reviews
Appalachian string band music pared to the absolute minimum of accompaniment, but packed with an orchestra's worth of rhythm.
—MUSIC CITY ROOTS, Nashville
---
JTF came in as 25th Folk Album of the Year, with Evie Ladin the 49th Artist of the Year, right behind Bill Monroe and Greg Brown. Most played songs: Ease On Down, Honey Lou, Jump Up & Go. Great company, lots of radio play, including KBCS (Seattle, WA) and WPRB (Princeton, NJ) top 10 of 2016.
—FOLKDJ
---
The title track leads off the new album with a shot of energy and sunshine…creating a relationship story line from first touches to last regrets, the record is as much a folk operetta as it is a story told in banjo and lyrics. But it's the energy of the playing that keeps the listener engaged.
–Feature in San Francisco Chronicle
---
The overall impression from the thirteen tracks on Jump the Fire is what one might call "fun for grown-ups." Evie Ladin's songs possess a certain intelligence and maturity-of-theme, even as they are musically-executed in a manner that evokes the spontaneity and playfulness of youth. That these two attributes can exist simultaneously is a musical lesson which Evie Ladin and her band are very successful at teaching.
–KindWeb
---
ELB WON the Fan Vote for AMERICANA ALBUM OF THE YEAR by the Independent Music Awards!
---
This compelling record and her amazing band lineup should finally earn Evie Ladin the reputation she deserves in the folk music world…she has outdone herself this time. —FIDDLEFREAK
---
Her rich and smoky voice resembles Natalie Merchant's, and her songs are as fetching as Nancy Griffith's…they're all catchy, with mature lyrics and skilled phrasing.
—OLD-TIME HERALD
---
Deliciously quirky…imagine a mash-up of Michelle Shocked and Emmy Lou Harris! —NEW TIMES
---
You can feel the joy that rises up from the playing of the Evie Ladin Band. The musical structure is old time but the music is as fresh as laundry on the line.
—ALTERNATE ROUTE
---
Album opener "Got You on My Mind" smolders with gnarly intensity and is an album highlight. It's also the perfect introduction to Ladin's voice: sultry, wistful and defiant all at once. Ladin possesses a keen songwriting sense and a stable of strong musicians to back her up. —POP MATTERS
---
Compelling vocals…an impressive effort —COUNTRY STANDARD TIME
---
TOP